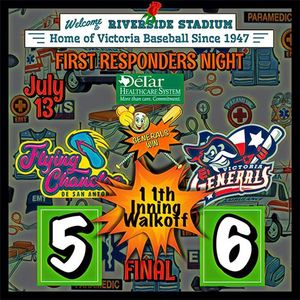 Adam Becker's walk off hit gives Generals a victory over Chanclas
July 13. 2021 – Adam Becker walks it off in the 11th inning for a 6-5 win over The Flying Chanclas.
The Generals' bats come alive in the 3rd inning with a solo homer to left field by Shane Podsednik. Bats went quiet for a while until the 8th inning when Adam Becker singles on a hard ground ball to left field that brought in Hector Martinez. Austin Ochoa followed up with a single to left field and tied up the game when Cody Cleveland came in. The game goes into extra innings and Kyle Hasler singles on a line drive to right field and Cameron Gibbons scores. Cristian Cienfuegos walks and Hasler comes into home to tie up the game once again. Becker walks it off in the 11th with a line drive to center field and Hasler scores.
Flying Chanclas' starter Alec Martinez went only two innings before the lightning delay, with no earned runs on one hit and recording two strikeouts. After the delay, AJ Ayala came in from the bullpen going two innings, giving up one earned run off a homer, and recording two strikeouts. Evan Maldonado, Matt Sessler, Cale Wagoner, and Connor Schmidt came in relief to keep the Generals from scoring. Maldonado and Sessler were successful in keeping the Generals bats at bay going a combined three innings, only allowing one hit and two walks. Wagoner went three innings and gave up the Chanclas lead. Wagoner gave up two runs, one earned, on five hits and recorded two strikeouts. Schmidt came out of the bullpen in relief to keep the score the same. He was unsuccessful going two-thirds innings with two earned runs on three hits. Schmidt received the loss as the Generals walked it off.
The Chanclas start to score in the 3rd inning on a wild pitch that allowed Cole Modgling to scores. Ryan Flores grounded out second, but Warren Laster managed to earn a run for The Chanclas. In the 8th inning Augie Ramirez singles on a line drive single to right field and Ian Bailey scores. In extra inning Rody Barker was out on a sacrifice fly to left field and Bailey scores. Modgling grounds into fielder's choice then Ramirez comes in for the final run.
Generals' starting pitcher Riley Egloff posted nine strikeouts in five innings giving up only 2 earned runs on three hits. Out of the bullpen Chris Foster, Miles Clack, and Alec Cruz came onto the mound for the Generals. Foster went two innings, recording two strikeouts and no earned runs. Clack came on for one inning of work, giving up one run on two hits, and striking out two. Cruz went the distance for the Generals and received the win. Cruz recorded two strikeouts and gave up one earned run in his three innings pitched.
Generals hit the road for a two-game series at the Brazos Valley Bombers before returning home for another two-game series with the Bombers on Friday with a Free Ticket Night presented by Zen Water. Gates open at 6:00 with first pitch at 7:05.