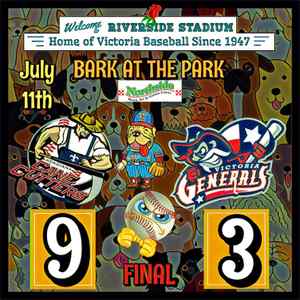 Generals Early Lead Not Enough as Cane Cutters Sweep
July 11, 2021 – The Victoria Generals' defensive errors and lack of hitting lead to a 9-3 loss to the Acadiana Cane Cutters, who sweep the two-game series.
The Generals took an early lead 2-0 in the 1st inning on a single by Cody Cleveland. Bryce Sitka was able to earn another run for the Generals in the 4th inning. The Generals' bats were quiet for the rest of the night except for a few hits.
Cane Cutters' starter Mathew Adams received the win after going four innings only giving up three earned runs and recording ten strikeouts. In relief, Reed Vincent and Andrew Cossio kept the Generals from scoring. Vincent went four solid innings with no earned runs on one hit and one strikeout. Cossio went one inning, giving up no hits, two walks, and recording two strikeouts.
The Cane Cutters capitalized on a few pass balls and errors by the Generals in the 3rd inning taking the lead 3-2. Matt Abshire extended their lead 4-2 in the 3rd with a single up the middle. The Cane Cutters continued to extend the lead in the 4th inning starting with a bases-loaded groundout to bring their lead up 5-2. A hard hit single by Will Veillion passed under Generals right fielder Hayden Johnson's glove to advance Vaillion to second. Two runners scored on this play to push the Cane Cutters ahead 7-2. Austin Trahan followed up Vaillion with an RBI single, as they extended their lead 8-2. The Cane Cutters would bring their final run in on a ground out in the 6th inning to take a 9-3 lead. After the 6th, the Cane Cutters would only record one more hit in their 9-3 win.
Generals' starter Brett Brown received the loss tonight going two and two-thirds giving up three earned runs on four hits and three walks. Out of the bullpen Fischer Kingsbery, Javier Acevedo, Austin Testerman, Kamron Snodgrass, Alec Cruz, Miles Clack, and Josh Salinas tried to keep the Cane Cutters from widening the lead. Kingsbery gave up four earned runs on four hits and recorded one strikeout. Acevedo and Testerman went a combined one and two-thirds innings with five strikeouts and no earned runs. Snodgrass went one inning, giving up one made run on two hits. Cruz, Clack, and Salinas ended the game, each going one inning. Clack and Salinas each recorded a strikeout.
Generals are back in action on Tuesday night with First Responders Night presented by DeTar Healthcare System. All First Responders and their families will be admitted FREE to enjoy the game. The Generals will return from a short road trip to take on the Brazos Valley Bombers on Friday and Saturday.