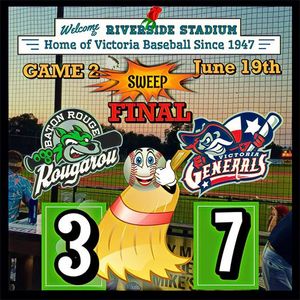 Generals take the series against the Rougarou
June 19. 2021 – Collin Garner's dominate start allows The Generals to pull out at 7-3 win and sweeping the two-game series from the Baton Rouge Rougarou.
The Generals start the game off with a bunt by Tyler Wulfert and a reach on an error allows Chase Sanguinetti to score the first run. Tyler Wulfert grounds out to shortstop and Steven Rivas comes in for run. A flyout to right field by Kyler Bumstead then Chase Sanguinetti scores after tagging up on third base. A shot to right field gives Chase Sanguinetti a double and brings in two runs by Cade Manning and Sam Benjamin. The final two runs were earned by Tyler Wulfert's ground ball to center field.
Steven Medrano received the loss after giving up two earned runs in his four innings of work. Medrano only recorded one strikeout. The Rougarou pitching staff could not prevent the Generals from extending their lead, especially in the sixth. Jonathan Weiss and Anthony Fidanza came out of the bullpen. Weiss went one inning, giving up four earned runs and recording only one strikeout. Fidanza came in for the last three innings and did not give up a run and had a strikeout.
The Rougarou's bats were quiet in the first six innings. Cayle Webster comes into the 7th inning and hits a single to center field that brought in two runs by Cole Plowman and Gabe Spedale. Their final run was earned when Zavier Moore hit a ground ball to shortstop that allowed Reagan Paulina to score a run.
Collin Garner got the win for the Generals after going six and two-thirds innings, with only two, earned runs, and striking out six. Garner was dominant throughout the game; his two earned runs came after he was off the mound. Miles Clack and Josh Salinas came in relief to keep the Generals' lead. Clack went a third of an inning with one earned run and one strikeout. Salinas closed out the game going two innings without giving up a run and recording two strikeouts.
Catch the Generals back in action for the final game of the home stand for Dad's Day at the Park on Father's Day! It is a free ticket night presented by Explore Victoria Texas. Kids can play catch with Dad on the field at 6:30. Grab a ball and glove and build memories! This will be the last chance to catch the Generals at home until June 30th.