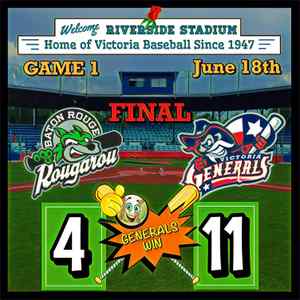 Generals Stay Hot Cooling Off Rougarou
June 18. 2021 – Generals fall behind early but timely hitting and quality pitching were the difference in the Generals 11-4 victory over the Rougarou in front of a packed house at Riverside Stadium.
The Generals bats were quiet in the first two innings but came back in the 3rd. Samuel Benjamin scores the first run for the Generals on an error. Shortly after, Chase Sanguinetti grounds out to shortstop and Cody Cleveland brings in the second run that tied up the game. A solo homerun by Shane Podsednik earns another run for the team. Hayden Johnson gets out on a sacrifice fly to right field which allows for Austin Ochoa to score. Tyler Wulfert comes in after Shane Podsednik singles on a ground ball to second. The sixth run of the night was brought in by Chase Sanguinetti after Austin Ochoa's sacrifice fly to center field. Tyler Wulfert gets his first homerun of the season and brings the generals to a total of eight runs. In the bottom of the 7th Samuel Benjamin doubles on a fly ball to center field that brings in Cade Manning. The final run of the night was scored by Steven Rivas when Hayden Johnson got on first base after 3rd strike and wild pitch.
Brayden Spears received the loss after giving up the lead in the fourth inning. Spears went five and a third innings with four earned runs and three strikeouts. The Rougarou pitching staff could not prevent the Generals from extending their lead. Cooper Donlin, Ethan Brister, and Gabe Spedale came out of the bullpen, allowing a combined three earned runs and recorded only one strikeout.
The Rougarou started the game off with two runs scored by Nick Cupp-Allen and Zavier Moore after Darian Richard singles on a line drive to left field. They manage to tie up the game in the 6th inning when Brandon Heidal grounds outs to shortstop and Hunter LeBlanc scores. Their last run was earned by Zavier Moore due to a double on a fly ball to right field Ryon Paulina.
Deryk Serbantez got the win for the Generals after going five innings, allowing two runs, and striking out eight. Derrick Curry, Gavi Coldiron, Lance Lusk, and Cristian Cienfuegos all came in relief to keep the Generals' lead. Combined, they recorded six strikeouts and allowed only one earned run.
The Generals wrap up this two-game series tomorrow night at 7:05! Gates open at 6pm with Happy Hour and half price beer on the Dornburg Party Deck until first pitch! Sunday is Dad's Day at the Park on Father's Day presented by Explore Victoria Texas. Kids can play catch with Dad on the field at 6:30.