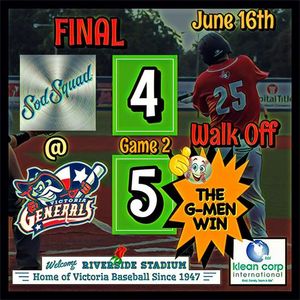 Benjamin with Second Walk-off Win in Four Games Versus Sod Squad
June 16. 2021 – Samuel Benjamin walks it off in the bottom of the 9th to bring in a win for The Victoria Generals in the last game of the series against The Amarillo Sod Squad with a final score of 5-4.
The Generals started the game off a little rocky with no runs scored in the first 3 innings. Steven Rivas came up to bat in the 4th inning and hit a solo homerun, that put a run on the board for The Generals. In the 6th inning Samuel Benjamin hit a solo homerun which added another run to the team's total. A ground out to first by Christian Cienfuegos allowed for Hayden Johnson to score. Later, Samuel Benjamin doubles on a line drive to right field and brings in run by Kyler Bumstead. To close out the game, Samuel Benjamin singles on a hard ground ball to right field and brought in the fifth run to win.
Jack Stroud had a dominant start for the Sod Squad, going five and two-thirds, with only two earned runs and striking out nine. Landry Kyle, Matthew Maloney, and Jose Visaez came in relief for the Sod Squad. Maloney gave up the lead going two innings, giving up two earned runs and two walks. Visaez got the loss for the Sod Squad, going a third of an inning and giving up one earned run in the ninth.
The Sod Squad started off the game with a single line drive to right field by Sam Tormos which allowed for Colton Olasin to score. CJ Horn hit a ground ball and reaches on an error that gave the team two runs scored by Ryon Knowles and Sam Tormos. CJ Horn was able to score off a wild pitch that brought in their final run of the game.
Reece Easterling started the game for the Generals. After a difficult first inning where he surrendered four runs to the Sod Squad, Easterling found his footing going five innings with seven strikeouts. Bo Dallas, Derrick Curry, and Josh Salinas came in from the bullpen and did not allow the Sod Squad to score again. Dallas, Curry, and Salinas combined for five strikeouts on the night. Salinas got the win for the Generals, going one and two-thirds.
The Victoria Generals will take a well-deserved day off before starting a three game home stand starting with a pair of games versus the Baton Rouge Rougarou. Friday is Advocate Subscriber Night as well as Little League Coach's Night. Generals wrap up the two-game series with the Rougarou on Saturday night. Sunday is Dad's Day at the Park on Father's Day with a FREE TICKET NIGHT presented by Explore Victoria Texas. Kids can play catch with Dad on the field at 6:30 with everyone admitted absolutely FREE.