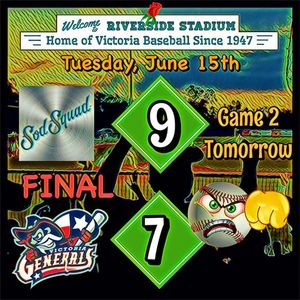 Generals Drop One to the Sod Squad
June 15, 2021- The Victoria Generals score early but let the game get away late against the Amarillo Sod Squad 9-7.
The Generals struck first with a five run second inning thanks in part from a Chase Sanguinetti grand slam. However, from then on it would be mostly Sod Squad. Scoring one run in the third, fifth, and sixth, the Sod Squad would tie the game in the seventh, take the lead in the eight and secure the lead in the nineth with two runs in each inning. The Generals would try for some late night heroics from Cody Cleveland with a two-run shot in the ninth, but would fall short 9-7.
Brandon Gomez got the start for the Amarillo Sod Squad, and went four and one-third, giving up five hits, five walks, struck out three, and gave up five unearned runs. Steven Ordorica got the win for Amarillo Sod Squad. The righthander allowed two hits and zero runs over three and two-thirds innings, striking out four and walking one. Carson Pierce threw one inning in relief out of the bullpen.
Brett Brown started the game for Victoria Generals. The ace allowed six hits and two runs over four and two-thirds innings, striking out three. Kameron Snodgrass, Lance Lusk, Chris Kean, and Gavi Coldiorn all pitched out of the bullpen. The General's bullpen combines for seven earned runs, nine strikeouts, six walks, and seven hits. Coldiorn takes the loss giving up two runs in his two-thirds innings pitched.
The Generals hit two home runs on the day. Cleveland put one out in the ninth inning. Chase Sanguinetti had a home run in the second inning. Shane Podsednik went 2-for-5 at the plate to lead Victoria Generals in hits. Victoria Generals was sure-handed and didn't commit a single error.
Amarillo Sod Squad totaled 13 hits. Tormos, Colton Olasin, and Knowles all had multiple hits for Amarillo Sod Squad. Tormos led Amarillo Sod Squad with four hits in five at bats.
Catch the Generals back in action to wrap up this two-game series with the Sod Squad Wednesday night with Faith and Family Night presented by Klean Corp International. Clay Crockett and the Nation of Believers will perform prior to the game starting at 6pm. Get there early and catch the action!