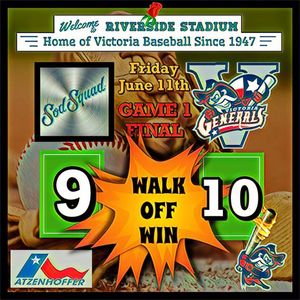 Generals walk it off in the 9th inning to beat the Sod Squad
June 11. 2021 – Austin Ochoa walks it off in the bottom of the 9th to bring in a win for The Victoria Generals in the first game against The Amarillo Sod Squad with a final score of 10-9.
The Generals started the game off strong with a homerun by Steven Rivas who tied up the game in the bottom of the 2nd inning. No hits were made in the next couple of innings, but they come back to life in the 5th inning as Cristian Cienfuegos hits a triple and manages to score on a wild pitch. Hayden Johnson hits a two-run homer into left field bringing The Generals to a total of 4 runs. In the bottom of the 6th Travis Faix hits the second homerun of the night and brings in two runs with his hit. Chase Sanguinetti starts a rally in the bottom of the 9th hitting a line drive double to center field that brought in two runs. Two outs on the board and Austin Ochoa comes out swinging to get a walk off double that allowed The Generals to win 10-9.
Hayden Johns started the game strong for the Sod Squad only giving up one earned run in the first four innings. Johns would then give up four more runs in five innings to finish his night putting the Sod Squad's lead in relief pitchers' hands. Jose Visaez, Matthew Maloney, and Landry Kyle came in and gave up six runs to lose the game for the Sod Squad.
The Sod Squad managed to take the lead in the 3rd inning after two runs were brought in by Peyton McGregor's homerun. Sam Tormos comes in with their second home run of the game to bring in two additional runs. A ground ball hit by Enrique Porchas allows runners to advance and score a run. Cameron Mahaffy hits a ground ball to shortstop and a runner was able to score off an error. In the 8th, Enrique Porchas grounds out to shortstop, but a run was brought in that brought the Sod Squad to a total of 9 runs.
Mason Longoria prevented the Sod Squad from scoring more runs in the 9th. Longoria received the win on the mound after throwing one inning and recording two strikeouts. Hunter Kloessel also came in relief to stop the Sod Squad from scoring. Kloessel went three and a third innings recording five strikeouts to put Longoria in position for the victory.
The Generals take on The Amarillo Sod Squad on June 12th with a Free Ticket Night presented by Compadres Design. Everyone will be admitted FREE to enjoy some Generals baseball! The final game of the series will be Warrior's Weekend Night at the Park with our annual jersey auction presented by Scherer Kubota. 100% of the money raised during the live auction will go to Warrior's Weekend.