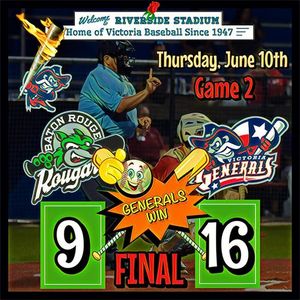 Generals Win a Slugfest with the Rougarou
June 10, 2021- The Victoria Generals bounce back in a huge way to pick up a much needed victory in the final game of the series to split the series with the Rougarou Final score was 16-9 on an offensive monster game for the Generals with 20 hits on the night.
Both teams came out swinging the bat well. The Baton Rouge Rougarou came out hot taking an early 2-0 lead in the top of the 1st. The Generals battle back to take the lead in the bottom of the 1st thanks to a Steven Rivas homerun. Both teams scratched for four runs in the 2nd making the score 7-6 Generals until the 4th. The Rougarou would tie the ball game at 7 in the 4th and briefly take the lead in the 5th with one run in each inning. The Generals would answer back scoring three runs in the bottom of the 5th making the score 10-8. The Rougarou would try to claw their way back in the 6th with another run of their own. The Generals would put the game out of reach following a four run 6th and two more in the 7th. Making the score 16-9 final.
Kameron Snodgrass led the Victoria Generals to victory on the mound. The ace went two and a third innings, allowing one run on two hits and striking out two. A number of pitchers entered the game as relief, with Gavi Coldiron, Derrick Curry, Tyler DeLong, and Josh Salinas, whom gets the save, all securing outs and ultimately the victory.
Jonathan Weiss was on the mound for Baton Rouge Rougarou. The righty went one and one-third innings, allowing seven runs on eight hits. Brayden Spears, Anthony Fidanza, and Cooper Donlin each contributed in relief for Baton Rouge Rougarou.
Baton Rouge Rougarou collected ten hits. Nick Cupp-Allen, Zavier Moore, Cayle Webster, and Kyle Jones each had multiple hits for Baton Rouge Rougarou.
Victoria Generals saw the ball well today, racking up a season high in hits in the game. Cienfuegos, Sanguinetti, Hayden Johnson, Chris Kean, Travis Faix, Samuel Benjamin, Tyler Wulfert, and Rivas all managed multiple hits for Victoria Generals. Johnson, Sanguinetti, and Cienfuegos each managed three hits to lead Victoria Generals.
The Generals have an action packed final two games of this home stand. Friday June 11th will be another Free Ticket Night presented by Atzenhoffer and the final game of the series will be Warrior's Weekend Night at the Park with our annual jersey auction presented by Scherer Kubota. 100% of the money raised during the live auction will go to Warrior's Weekend. This will also be a Free Ticket Night presented by Compadres Design with Free admission for everyone.