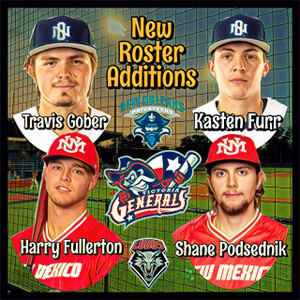 Division I Signees Highlight This Weeks Generals Roster Additions
April 23, 2021 – With the 2021 Texas Collegiate League season just a little over a month away, the Victoria Generals announce their recent signings to their 2021 TCL roster. This week, the Generals have announced the addition of four Division I players from the University of New Orleans and New Mexico. Kasten Furr (UNO), Travis Gober (UNO), Shane Podsednik (NM), and Harry Fullerton (NM) will all suit up for the Generals as they embark on their 13th season in the TCL in late May.
"The ability to sign Division 1 players and mix in some experience along with younger players is key for us as we build our roster," commented Mike Yokum, Generals Vice President and General Manager. "Our partnership with UNO has grown over the years and it is great that we have begun a strong relationship this season with New Mexico."
Kasten Furr, a freshman infielder from Ruston, LA, will take the field primarily at shortstop and third base for the Generals. Furr is having a outstanding season for UNO leading the team in hitting. Furr has appeared in 34 games with a .331 batting average, 121 at-bats, 40 hits, eight doubles, one home run, scored 31 runs, and an on-base percentage of .438 on the season. (stats thru 4/22/21) Furr appeared in 12 games with 10 starts as a freshman before Covid halted the 2020 season. Furr was ranked the tenth best short stop coming out of high school in Louisiana in 2019 by Perfect Game.
Travis Gober, a freshman from Rockwall, TX, will suit up for the Generals playing primarily at first base. Gober has appeared in 24 games, hitting .288, 80 at-bats, 23 hits, three doubles, a triple, two home runs, scored 12 runs, with 12 runs batted in and an on-base percentage of .374 on the season. (stats thru 4/22/21) Gober has also been solid defensively this Spring with a .975 fielding percentage. Gober was ranked the seventh best first baseman in Texas out of high school in 2020 by Perfect Game.
Shane Podsednik, a junior from Houston, TX, will take the field behind the plate at catcher for the Generals this season. Podsednik was a transfer from Wharton Junior College after two seasons. In his first season at New Mexico, Podsednik was off to a great start appearing in 12 games at catcher, hitting .325 with four doubles and six runs batted before Covid-19 forced the cancellation of the 2020 season. Podsednik is having a solid season defensively thus far in 2021 with a .988 fielding percentage in eight games at catcher.
Harry Fullerton, a junior from Sydney, Australia, will play outfield for the Generals. Fullerton was off to an impressive junior season in 2020 prior to the cancellation of the season due to Covid-19. Fullerton started in all 18 games played, hitting .375 (third on the team) with a team leading three home runs and 16 runs batted in. Fullerton's career numbers for the Lobo's appearing in 37 games, 122 at-bats, 25 runs on 37 hits with eight doubles, five triples, five home runs, 27 runs batted in, a .303 batting average and an on-base percentage of .411.
The Victoria Generals will play 44 games with 22 of the games being played here in Victoria at Riverside Stadium. Catch the Generals home opener on Tuesday, June 1st as the Generals take on the defending champion Brazos Valley Bombers in game one of a two-game series. Opening day is a Free Ticket Night presented by Texas Roadhouse. The 2021 Generals schedule can be found on our website at www.victoriagenerals.com. Follow the Generals on Facebook and Twitter for further updates on the upcoming season with an action-packed season planned! Fans can buy season tickets and merchandise at the team store located at 1307-H East Airline Road in the Town and Country Shopping Center.
The Generals are currently looking for additional sponsors for the 2021 season. There are great sponsor packages still available if your business is looking for a way to advertise your support for the Generals. The Generals are also currently looking for additional Host families for the Victoria Generals players. If you are interested or need additional information, please call 361-485-9522.