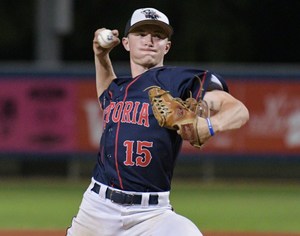 Generals Announce 2021 TCL Schedule
March 24, 2021 – The Texas Collegiate League released the 2021 season schedule this week as the TCL is set to launch their 18th season of wood bat collegiate baseball. The 2021 season will be the 13th for the Victoria Generals as they seek their 3rd TCL Championship
This season will consist of a 44 game season (22 home dates, 22 road dates) that will open up on the road as the Generals take on the San Antonio Flying Chanclas in a three game series on Friday, May 28th. The Generals will return home for their home opener on Tuesday June 1st at Riverside Stadium as they take on the defending champion Brazos Valley Bombers. This season will see the return of an Opening Day Free Ticket Night presented by Texas Roadhouse. All Generals fans will be admitted to the home opener absolutely FREE thanks to our partnership with Texas Roadhouse! On Friday, June 11th, the Generals will host the Amarillo Sod Squad as they make their first trip to Riverside Stadium.
The season will be divided into two 22 game halves as the Generals conclude the end of the first half on Thursday, June 24th. The following day will begin the second half that will run until the final day of the regular season on Sunday, August 1st. Following a travel day, the playoffs will begin on Tuesday, August 3rd with a TCL champion crowned on Saturday, August 7th.
Several important dates have been locked down for the 2021 season including our 8th Annual Warriors Weekend event that will be scheduled for Saturday, June 12th, as well as our 8th Annual Strike Out Cancer event that will be scheduled for Saturday, July 10th. Both of these events will include our special player jersey auction with 100% of the money raised going to these outstanding causes. Over the past seven seasons, the Victoria Generals have raised more than $240,000 through their charity jersey auctions. Many other events are in the works so stay connected to the Generals website at www.victoriagenerals.com. Visit this website to see the full schedule.
If your business is interested in a sponsorship with the Victoria Generals, please call 361-485-9522 to see how your business can get in the action. There are sponsorship packages to fit any advertising budget. Season ticket packages are now available at the Victoria Generals Team Shop located at 1301 E. Airline in the Town and Country Shopping Center. Follow the Generals on Facebook and Twitter for further updates on the upcoming season.