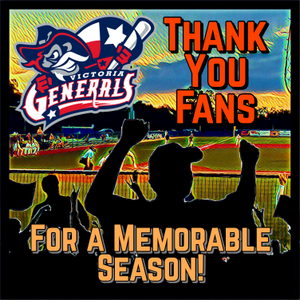 The Victoria Generals would like to thank all our fans for their support during the 2020 season. Although the season didn't turn out exactly how we had it drawn it up, there was plenty of positive things that came out of the season. We were the only team in the league that managed to play every game on the schedule. With Covid-19, many dedicated fans came out daily to support the Generals.
Many thanks to all of our wonderful host families that did an amazing job taking care of all our players during these trying times. You all stepped up and made adjustments when problems would arise and made it happen flawlessly! We look forward to the continued support in the future!.
The Generals would also like to thank all of our outstanding sponsors that stuck with the Generals during the season and all those free ticket night sponsors that made our season FREE to everyone. Your support is what makes our season happen and we look forward to a huge 2021 season.