08/03/2020 12:47 AM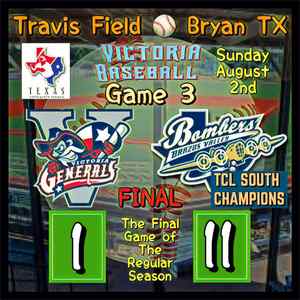 Early Lead For Brazos Valley Bombers Seals Fate For Victoria Generals
Victoria Generals fell behind early and couldn't come back in an 11-1 loss to Brazos Valley Bombers on Sunday. Brazos Valley Bombers took the lead on a sacrifice fly in the first inning.
The Generals struggled to contain the high-powered offense of Brazos Valley Bombers, giving up 11 runs.
Brazos Valley Bombers got things moving in the first inning, when Austin Bost's sac fly scored one run for Brazos Valley Bombers.
Brazos Valley Bombers scored six runs in the third inning. The offensive onslaught by Brazos Valley Bombers was led by Mikey Hoehner, Bost, Wesley Faison, and Adam Bland, who all drove in runs.
Sundgren was credited with the victory for Brazos Valley Bombers. He surrendered one run on two hits over six innings, striking out nine. Cody Collins, Logan Bell, and Pepper Jones all put in work in relief out of the bullpen, steering their team towards the victory.
Oliver took the loss for the Generals. He went two and two-thirds innings, allowing seven runs on eight hits, striking out one and walking zero.
Hobbs Price, Seth Spinn, Brandon Broughton, and Payton Robertson each managed one hit to lead Victoria Generals.
Brazos Valley Bombers tallied 16 hits on the day. Hoehner, Jeffrey David, Faison, Kelby Weyler, Bost, and Sam Thompson all collected multiple hits for Brazos Valley Bombers. Hoehner went 4-for-4 at the plate to lead Brazos Valley Bombers in hits.
The Generals would like to thank all our sponsors, fans, host families, staff, and players for a memorable season. We look forwad to a successful 2021 season.

|
Back to index...