08/02/2020 8:55 AM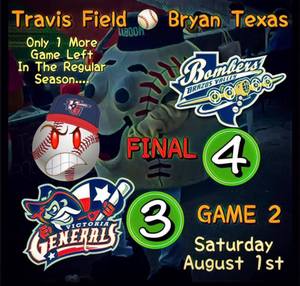 The Victoria Generalsfell behind early and couldn't recover in a 4-3 loss to Brazos Valley Bombers on Saturday. Brazos Valley Bombers took the lead on a single in the first inning.
Brazos Valley Bombers opened up scoring in the first inning, when Taylor Smith singled on a 1-2 count, scoring one run.
Tristain Stivors earned the victory on the hill for Brazos Valley Bombers. He surrendered zero runs on two hits over four innings, striking out six. A number of pitchers entered the game as relief, with Reese Easterly, Henry Bird, John Cheatwood, and Zach Griggs all securing outs and ultimately the victory. Cheatwood recorded the last three outs to earn the save for Brazos Valley Bombers.
Deryk Serbantez took the loss for the Generals. He allowed seven hits and three runs over three and a third innings, striking out four.
Josh Elvir led the Generals with three hits in five at bats. The Generals were sure-handed and didn't commit a single error.
The Generals and Bombers will wrap up the regular season tonight in Brazos Valley with first pitch at 7:05pm. Catch the game on TCL-TV.

|
Back to index...