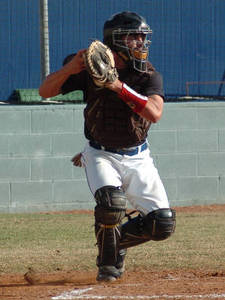 The Victoria Generals have announced the signing of former Memorial High star, Roman Madrid, to their 2010 roster.
Madrid, who was selected by the Cleveland Indians as a catcher in the 44th round of the 2009 first-year Major League Baseball draft, was the first Viper product ever drafted straight out of high school. Madrid, however, opted not to sign with the Indians, choosing instead to attend Texas A&M University-Corpus Christi to continue his playing career.
"As soon as I heard that Roman had decided to go to Corpus instead of signing with the Indians, I knew that we had a good chance at getting him to come back home and play for us next summer," said Blake Koch, Victoria's General Manager.
Madrid received several honors following his senior year, including being named first-team All-District 27-5A and third-team All-State by the Texas High School Baseball Coaches Association. Madrid hit .341 with four homeruns during his senior year and also threw back-to-back no-hitters on the mound for the Vipers against San Antonio Highlands and Converse Judson.
"Roman is a duel threat type of player that can both pitch and hit as well as play multiple positions defensively," Koch continued. "He obviously has a lot of talent and is a guy that we expect to come in and make an immediate impact through his various roles."
Madrid is expected to pitch and play third during his freshman year in Corpus Christi along with his duties as a catcher. This comes as no shock since Madrid played all three positions in high school.
"Roman is a familiar face here in Victoria and is a guy that we believe our community will love to come out and watch play every night as he grows and matures as a player and as a person," Koch stated.
The Generals will return to action in early June at Riverside Stadium. Fans that are looking for unique holiday gifts can get season tickets and team merchandise at the General's team shop located at 3708 North Navarro Suite A in the Landmark Shopping Center or online at
www.victoriagenerals.com. Season tickets are now on sale and all merchandise is 25% off during the holiday season!