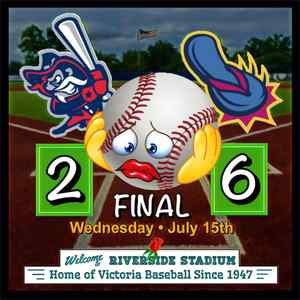 Generals Fall in Late Rally by Flying Chanclas
Victoria Generals lost the lead late in a 6-2 defeat to San Antonio Flying Chanclas on Wednesday. The game was tied at two with San Antonio Flying Chanclas batting in the top of the seventh when Tyler Larue singled on the first pitch of the at bat, scoring one run.
Victoria Generals got on the board in the second inning. Ambren Voitik singled on a 1-0 count, scoring the first run of the game. The General would hold the lead until the seventh inning as the Flying Chanclas would take the lead for good.
Johnny Panatex got the win for San Antonio Flying Chanclas. He allowed no hits and no runs over two and two-thirds innings, striking out four without walking anyone. Arturo Guajardo and Garrett Egli entered the game out of the bullpen and helped to close out the game in relief.
Trey Valka took the loss for Victoria Generals. He went one and two-thirds innings, allowing four runs on three hits and striking out two.
Austin Krob started the game for San Antonio Flying Chanclas. He went three and a third innings, allowing two runs on seven hits and striking out three. Dylan Turner started the game for Victoria Generals allowing five hits and no runs over five innings, striking out three and walking one.
Victoria Generals saw the ball well today, racking up nine hits in the game. Payton Robertson, Brandon Broughton, and Reese Johnson all managed multiple hits for Victoria Generals. Johnson, Broughton, and Robertson each managed two hits to lead Victoria Generals.
The Generals are back in action tomorrow night for Thirsty Thursday presented by Klean Corp International. $1 draft beer on the Klean Corp Party Deck all game long and it is a Free Ticket Night presented by Team Retirement Solutions. Gates open at 6PM with first pitch at 7:05. Social Distancing measures are in place for your safety. Masks are required as you enter and travel throughout the ballpark.