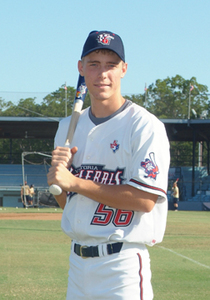 The Victoria Generals have announced the re-signing of two more stand-out players from their inaugural season. Third baseman Brian Nephew and left-handed pitcher Covey Morrow are set to return to help the Generals defend their regular season championship crown.
"These two young men had tremendous success in their first season with the Generals," said Blake Koch, the team's General Manager. "We are excited that they have chosen to come back to Victoria and play for us again."
Nephew, who is currently a junior at the University of Texas at Arlington, was the Generals everyday third baseman this past season, hitting an impressive .291 while driving in 19 runs during the regular season. Prior to attending UTA, the Arlington native played for General's head coach Chris Clemons at McLennan Community College in Waco.
"Brian came in last year and immediately asserted himself as the leader of our team," Koch commented. "He comes to the park everyday with a positive attitude that rubs off on everyone around him. Brian is a great competitor that we can always rely on in big game situations."
Morrow, a 6'5" left handed pitcher from Texas State University, returns to the Generals after being added to the roster with only three weeks remaining in the 2009 season. Morrow was dominant during his short stint with the Generals, appearing in five games, throwing 15 innings, and only giving up one run for a microscopic 0.60 ERA. Morrow attended Yoakum High School where he compiled an impressive career, pitching in 123 innings and striking out 206 with a 0.96 ERA.
"We are always happy to have local guys like Covey play for us," Koch continued. "Covey came in at the end of the season and gave our pitching staff a much needed lift after we lost a few guys to injuries. We are excited to see him pitch a complete season for us here in Victoria."
The Generals will return to action in early June at Riverside Stadium. Fans that are looking for unique Christmas gifts can get season tickets and team merchandise at the General's team shop located at 3708 N. Navarro St. Suite A in the Landmark Shopping Center or online at www.victoriagenerals.com. Season tickets go on sale November 2 and all merchandise will be 25% off.