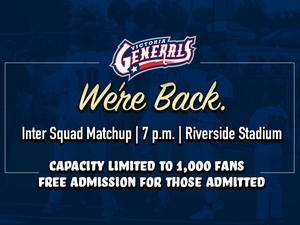 VICTORIA, Texas - After a long awaited return, the Victoria Generals begin the 2020 preseason tonight with an inter squad matchup beginning at 7 p.m. at Riverside Stadium.
Due to the COVID-19 pandemic, the Generals schedule will now include two inter squad matchups and five preseason games before the team jumps into the regular season on June 30th on the road against the Acadiana Cane Cutters.
Last season, the Generals accomplished a 34-18 overall record and a TCL playoff semifinal apperance. The 2019 year marked the third straight season the team eclipsed the 30-win mark under fifth year head coach Michael Oros.
Capacity for tonights matchup will be limited to 1,000 fans (50% capacity) due to implemented COVID-19 restrictions. These 1,000 fans will be admitted free into the stadium.