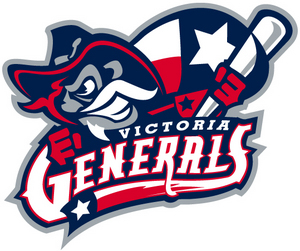 The Victoria Generals of the Texas Collegiate League are happy to announce the re-signing of right handed pitchers Michael Oros and Joey Satriano for the 2010 summer season. Both pitchers helped guide the Generals to a regular season championship with a 32-16 record.
"We are very excited to have these two young men come back to Victoria next summer to anchor our pitching staff," said Blake Koch, the team's General Manager. "Both are great representatives of the type of players that we want to build our team around."
Oros had a standout summer on the mound for the Generals in their inaugural season posting a minuscule 1.53 ERA while going 3-0 in 10 appearances and four starts. Oros held opposing hitters to a .186 batting average while striking out 26 batters in 29 1/3 innings of work. Oros is from Kingwood, Texas and is currently in his sophomore year at San Jacinto College where he returns to a team that placed third at the Junior College World Series last year in Grand Junction, Colorado.
"Michael played a large role on our pitching staff last season, mostly out of the bullpen," Koch commented. "He continually came into games in big situations and helped us avoid giving up big innings defensively. His numbers from last year reflect his abilities. The great thing about Michael is that we feel like he still has a high ceiling with lots of room to continue to grow and get better as a pitcher."
Satriano returns to the Generals after being an end-of-the-season acquisition last summer. After an injury to pitcher Chase Cleveland in the last game of the regular season, the Generals went out and signed Satriano to bolster their playoff roster. Satriano appeared in two games during the postseason. Satriano is from Bellaire, Texas near Houston and is currently a junior at the University of Louisiana at Lafayette after transferring from McLennan Community College where he played for the General's head coach, Chris Clemons.
"Joey is a big acquisition for us," Koch continued. "He's a guy that immediately fits in at the top of our starting rotation. Joey is an imposing figure on the mound, standing at 6'3" and weighing 240 pounds with a powerful right arm. He's only been pitching for a few short years and is the type of guy that scouts believe has a professional future in baseball."
The Generals will return to action in early June at Riverside Stadium. Fans that are looking for unique Christmas gifts can get season tickets and team merchandise at the General's team shop located at 3708 N. Navarro St. Suite A in the Landmark Shopping Center or online at www.victoriagenerals.com.