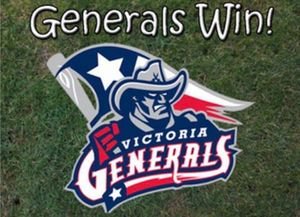 Generals Force Decisive Game 3
August 11th , 2019- The Victoria Generals bats came alive tonight as they beat the Texarkana Twins 9-1. The Twins scored in the first inning but after that nothing came about for their offense.
The Generals waited 5 innings before they hopped on the scoreboard with a huge five-run offensive explosion. Lead by Marshall Skinner's two-RBI triple, scoring Coby Potvin and Payton Robertson. Zac Vooletich followed with an RBI triple and then a Ryan Flores RBI groundout gave the Generals more than enough runs to win this one.
The Generals kept things going with two runs in both the 6th and the 7th innings, highlighted by a Tanner Roach steal of home!
Gabe Sequeria started and got the win for the Generals on the mound. Sequeria went seven innings of one-run ball, allowing four hits, walking two and striking out seven. Carson Rollins and Kyle Rodgers each pitched a scoreless inning in relief. Rollins and Rodgers combined to give up one hit, one walk while striking out two. Mike McElmeel took the loss for the Twins. McElmeel went four and one-third innings, allowing seven hits, five earned runs, walking two and striking out three.
The Generals will be back in action tonight for what could be the final home game of the summer for the Generals. The Generals will host the Twins with the winner advancing to the TCLChampionship Gameon the line. Tonight will be a FREE TICKET NIGHT presented by the Victoria Generals! No ticket necessary. Pack the house and root the Generals on to victory. gates open at 6pm with Happy Hour until first pitch!