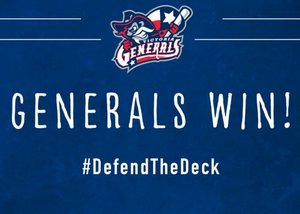 Generals Bats Come Alive in Extra Inning Marathon
Lafayette, LA - Victoria Generals nabbed the lead late in the game in a 13-11 victory over Acadiana Cane Cutters on Thursday. The game was tied at ten with Victoria Generals batting in the top of the tenth when Payton Robertson drew a walk, scoring one run.
Coby Potvin collected five hits in six at bats to help lead Victoria Generals to victory. Potvin singled in the first, singled in the second, singled in the fifth, singled in the seventh, and singled in the ninth.
Acadiana Cane Cutters opened up an early lead in the first inning when Zavier Moore doubled on the first pitch of the at bat, scoring two runs.
In the bottom of the eighth inning, Acadiana Cane Cutters tied things up at ten. Fisher Norris's sac fly scored one run for Acadiana Cane Cutters.
Victoria Generals scored five runs in the second inning. Victoria Generals big bats were led by Potvin, Ryan Flores, Zac Vooleitch, and Ian Groves, all sending runners across the plate with RBIs in the inning.
Zach Smith led the Victoria Generals to victory on the mound. He allowed one hit and one run over two innings, striking out five. Max Page, Brent Hebert, and AJ Irvin all put in work in relief out of the bullpen, steering their team towards the victory.
Hunter Stafford took the loss for Acadiana Cane Cutters. He lasted one and two-thirds innings, allowing four hits and three runs while striking out two.
Noah Hughes started the game for Acadiana Cane Cutters. He allowed six hits and six runs over one and one-third innings, striking out three. Alex Canul started the game for Victoria Generals. He lasted one and two-thirds innings, allowing five hits and six runs while striking out one.
Victoria Generals collected 15 hits on the day. Potvin, Vooleitch, and Flores each managed multiple hits for Victoria Generals. Potvin led Victoria Generals with five hits in six at bats.
The Generals are back in action at Riverside Stadium on Saturday with Strike Out Cancer Night presented by Citizens Medical Center with it being a Free Ticket Night presented by Victoria Area Nurse Practitioners. Jersey auction following the game with 100% of the money raised going to the fight against cancer.