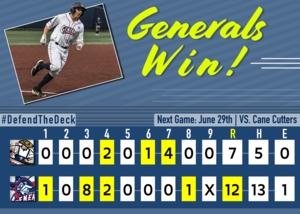 June 26th, 2019- A massive explosion of offense in the bottom of the third gave the Generals a 9-0 lead and they never looked back. The Cane Cutters tried to grab the lead late with a four-run 7th, but the Generals pitching staff was too hot to handle.
The Generals took the lead in the bottom of the 1st when Tanner Roach lead of with a solo homerun. Ryan Flores and Jordan Johnson each had a big fly of their own. The Generals had a huge 3rd inning with Ryan Flores, Jordan Johnson, Bennett Laurence, and Tanner Roach each driving in runs during the inning.
Spencer Arrighetti pitched the Generals to victory. He surrendered three runs on three hits over six innings, striking out five. Zach Smith, Ty Abraham, and Hamilkar Medina all put in work in relief out of the bullpen, steering the Generals towards victory.
Joey Akers took the loss for the Cane Cutters. He went two innings, allowing six runs on five hits and striking out one.
The Generals tallied 13 hits in the game, with Flores, Roach, and Johnson each racking up multiple hits for the Generals.
The Generals will be back in action tomorrow, Saturday June 29th, For Dog's Day at the Park! All Doggos are welcome! The Generals will finish the series against the Cane Cutters tomorrow as well!