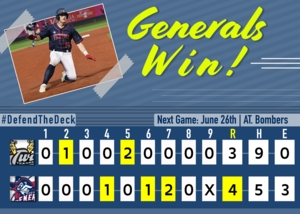 Generals Clinch Lead in Seventh Inning To Defeat Texarkana Twins
June 25th, 2019- The Victoria Generals stole the lead late and defeated the Texarkana Twins 4-3 in Tuesday's game. The game was tied at three until the seventh inning when Coby Potvin was hit by a pitch with the bases loaded to tie the ball game. Then a passed ball from the Twins catcher allowed Jose Diaz to score and the Generals would never look back.
Jonathan Jimenez got the win for the Victoria Generals. He surrendered zero runs on two hits over two innings, striking out four and walking zero. Seth Campbell, Zach Smith and Ty Abraham all put in work in relief out of the bullpen, steering their team towards victory. Abraham recorded the last three outs to earn the save.
Brian Hamilton took the loss for the Twins. He lasted one and two thirds innings, allowing two hits and two runs while striking out one.
Braydon Credeur started the game for the Twins lasting five innings, allowing three hits and two runs while striking out eight. Matthew Swick started the game for the Generals allowing six hits and three runs while striking out six over four and two thirds inning.
The Victoria Generals launched one home run on the night as Coby Potvin homered in the fourth inning. Potvin also led the Generals with two hits in three at bats.
The Generals were sharp on the mound, striking out 14 Twins hitters over nine innings of baseball. Swick and Jimenez both led the way with six and four strikeouts respectively.
The Generals will be on the road as they head to College Station to face the Brazos Valley Bombers for a two games series on June 26th and 27th. The Generals will be back at home on Friday June 28th and Saturday June 29th when they host the Acadiana Cane Cutters. Saturday will be Bark in the Park Day so all dogs are welcome to attend!