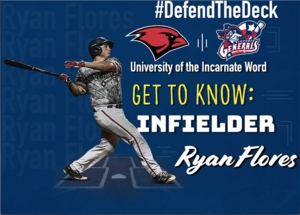 From Pitching Prospect to Perennial D1 Hitter
Ryan Flores has been on a torrid streak thus far in the summer for the Generals. Coming off of his player of the week honor, Flores is hitting .367 with eight doubles; two home runs and 19 RBI's on his way to a sure fire all star selection.
Flores credits his grandfather, Isidro Zamora Jr. for his profound success at the plate.
"I like hitting because my grandpa taught me his approach and he taught me to always get ready to swing at the first pitch because it is the best one you are going to get," said Flores.
Before signing to play at the University of The Incarnate Word out of high school, Flores's hitting ability was not always on center stage.
"They [University of The Incarnate Word] were the only place that really offered me to hit in college, all my other offers were to pitch and I really just love to hit," said Flores.
It sure looks like the University of The Incarnate Word made the right decision as Flores hit .335 with 18 doubles, two triples, 12 home runs and 42 RBI's in his sophomore year.
Flores was very humble when asked about his biggest accomplishment in baseball thus far in his career.
"I just say being how old I am being able to play the game because a lot of guys I grew up playing with aren't able to play the game anymore," said Flores.
The Generals sure are glad Flores chose to stay close to home and play for the defending TCL champions.
If you or your family want to come watch Flores and the other talented members on the Victoria Generals, come out to Riverside Park on Tuesday, June 25th, Friday, June 28th and Saturday, June 29th as the Generals look to defend their TCL crown!