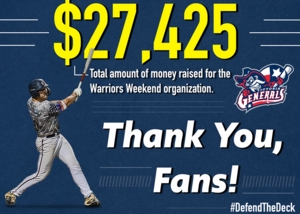 Player Jersey Auction for Warriors Weekend Lands a Record $27,425
Victoria, TX – The Generals concluded a two-game series by sweeping the Baton Rouge Rougarou but that was only the first victory on the night for the Generals. Following the game, the Generals held their annual Warriors Weekend at the Ballpark jersey auction and netted a record $27,425 for Warriors Weekend, shattering the previous high mark of $16,125 raised in 2018. 100% of the money raised from this auction went to the Warriors Weekend Organization.
Auctioneer Justin Anderle began the bids at $250 and quickly ran the bids up as many of the player jerseys went for over $2,000 each. Several of the notable player jerseys that recorded top dollar were Zac Vooletich ($2,100), Ian Groves ($2,000), Tanner Roach ($1,450), and last night's starting pitcher Deryk Serbantez ($1,200)
This was the sixth season that the Generals have partnered with Warriors Weekend and the jersey auction and have raised $96,175 for Warriors Weekend over that six year period. The Generals also partnered with two sponsors that helped make this event possible. Scherer Kubota sponsored the jerseys and Atzenhoffer came through with a Free Ticket Night last night for the event.
The Generals will have two more jersey auctions coming up this season. On Saturday July 6th, the Generals will host Purple Out the Park for Alzheimer's. All the money raised through this auction will go to the Alzheimer's Association. On Saturday July 27th, we will have our Strike Out Cancer Night at the Ballpark with all the money raised going to the fight against cancer
The Generals have completed 17 jersey auctions over the six year period and have raised $184,370 for these three organizations. The Generals would like to thank our fans and sponsors for the generosity in making these events a huge success.
Warriors Weekend was founded in 2007, dedicated to the support of veterans of The United States of America with an emphasis on those wounded in the Global War on Terrorism. This is accomplished though holding an annual fishing event for wounded military personnel in May in Port O'Connor, TX. Warriors Weekend brings together more than 700 heroes each year to this event.