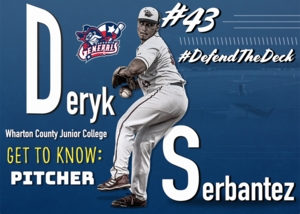 Before he can even remember, Deryk Serbantez was throwing a baseball. His mom Lanelle Carrasco always had a feeling her son was destined for the baseball diamond.
"When I was born my mom told me she had some kind of feeling you know that I was going to be a baseball star or whatever, so she named me Deryk after Derek Jeter…it was unique," said Serbantez.
Despite the confidence of his mother, the road to Division One baseball was never easy.
Serbantez began his college career at Wharton Junior College where he was a very talented two way player, pitching and playing the outfield both his freshman and sophomore year.
With the summer of 2019 coming up and no Division One offers on the table, Serbantez was about to head off to Louisville, KY to begin playing summer ball.
"Originally I was supposed to play for a team called the Hoptown Hoppers but their coach took a Division One job so he could not coach anyone below the Divison One level. About a week after that discovery, Coach Oros called asking if I wanted to play for the Generals and it all worked out, getting to play and be closer to home," said Serbantez.
And boy were the Generals glad they could scoop him up. Serbantez recently committed to the University of Texas Rio Grande Valley a Division One school. Serbantez was also recently honored as the player of the week during the Generals second week of the season where he threw 12 total innings and tallied 20 strikeouts in those outings.
Where did all of this success come from? Serbantez credits his hard work on the command of his off speed pitches.
"The ability to command my off speed as much as I do has been huge for me. Then throwing 88 to 91 miles per hour with as many breaking balls as you see coming in, that is going to look like 95 miles per hour with everyone looking for my off speed," said Serbantez.
Serbantez is one of many talented young players on the Generals roster this summer. So, if a baseball game on a Friday night sounds like something you'd be interested in, come over to Riverside Park and check out the defending Texas Collegiate League Champions the Victoria Generals as they continue their quest to repeat.