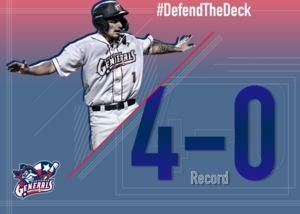 Generals Shut Out Rougarous Behind Strong Pitching Performance from Matthew Swick
Victoria Generals defeated Baton Rouge Rougarou 13-0 on Saturday to run their record to 4-0 on the season. Hamilkar Medina in relief induced a groundout from Carson Clowers to finish off the game in Baton Rouge.
Victoria Generals opened up scoring in the second inning, when Reid Baty's wild pitch allowed Bennett Laurence to cross the plate as the Generals would take a 1-0 lead.
Victoria Generals notched four runs in the third inning. Generals hitters contributing to the big inning included Payton Robertson, Bennett Laurence, Ian Groves, and Caleb Maly, all driving in runs in the inning.
Matthew Swick was the winning pitcher for Victoria Generals. He went seven innings, allowing no runs on three hits and striking out nine. Medina threw two innings in relief out of the bullpen.
Baty took the loss for Baton Rouge Rougarou. He surrendered six runs on five hits over four innings, striking out four.
Victoria Generals racked up 13 hits on the day. Tanner Roach, Maly, Laurence, Jordan Johnson, and Zach Limas all managed multiple hits for Victoria Generals. Roach went 3-for-6 at the plate to lead the Generals in hits. The Generals had a strong game defensively with an error free game. Austin Trace had ten chances in the field, the most on the team.
Catch the Victoria Generals back in action tomorrow night as the Generals return home to take on the Texarkana Twins. It will be First Responders Night presented by DeTar Healthcare System. All First Responders and their family will be admitted free to the game. First pitch is at 7:05.