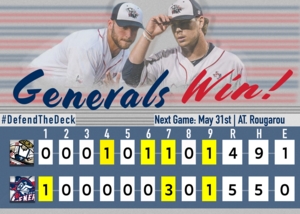 May 30th, 2019 – After a hard fought 4-3 victory on Wednesday night, the Victoria Generals would gut out a tough 5-4 victory over the Cane Cutters on Thursday night to complete the series sweep.
The Generals jumped out to an early 1-0 lead thanks to a leadoff hit by pitch by Tanner Roach which would later come around to score on an RBI groundout.
The Cane Cutters would tie things up in the top of the 9th courtesy of an RBI double by Tremaine Spears. The bottom of the ninth saw two quick outs before left fielder Caleb Maly drew a two-out walk. Pinch hitter Ian Groves would then hit a towering fly ball to left field that hit off the glove of the left fielder. Hustling all the way from first, Caleb Maly would slide under the tag of the catcher for the winning run!
Aaron Gonzalez started for the Generals going 3+ and only giving up one earned. AJ Irvin got the win in relief for the Generals, going 1/3 of an inning striking out Reed Spenrath with runners on second and third to end the threat.
The Generals will be on the road starting May 31st as they travel to Baton Rouge to take on the Rougarou. The Generals will be back at home on Sunday, June 1st to begin a series with the Texarkana Twins.