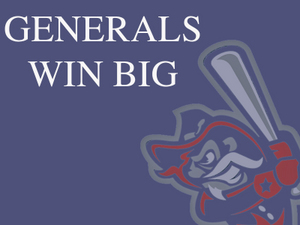 Victoria, TX – The Generals faced elimination in the championship series tonight versus the Acadiana Cane Cutters. After losing game one in Acadiana, the Generals came out victorious in the second game. Victoria took an early four run lead before eventually adding 8 late runs to their final score. The Generals won by a score of 12-6, holding off a late rally by the Cane Cutters.
Kasey Kalich (Blinn JC) got the start for the Victoria Generals. He allowed zero hits and zero runs up until the seventh inning. Kalich allowed three earned runs on two hits, while striking out 10 Cane Cutters. Hagan Hartman (Angelina College) relieved Kalich after one batter in the 8th inning. AJ Irvin (Blinn JC) came in to close the game out for the Generals.
The Generals had nine hits as a team that helped them score their 12 runs. Thomas Jeffries (Texas A&M-Corpus Christi) went three for five at the plate tonight. He scored three runs, but also had 3 runs batted in on a three run home run. Parker Osburn (Rice University) totaled two RBI's while going 1 for 4. Marshall Skinner (Northwestern State University) was one for two at the plate with an RBI double.
The Generals and the Cane Cutters will face off tomorrow night in the final game of the series. The winner will be crowned the 2018 champion of the Texas Collegiate League. The gate at Riverside Stadium will open at 6:00 Pm, and first pitch will be at 7:05 PM.