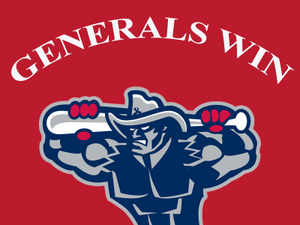 Victoria, TX – The Victoria Generals and Brazos Valley Bombers finished the regular season play in an extra inning battle. The Generals came out on top after Thomas Jeffries scored on a wild pitch in the bottom of the 11th inning.
Hagan Hartman started on the mound for the Generals, and pitched for one inning. Coach Michael Oros then switched pitchers for every inning until the 10th. Pitchers who threw for the Generals were: Kal Kilgo, AJ Irvin, Jonathan Jimenez, Chris Fearon, Zach Smith, Jack Woodlan, Luke Taggart, and Garrett Alexander. Kyle Backhus pitched the final two innings for the Generals while striking out five batters.
Thomas Jeffries stole two bases late in the game to break the record for stolen bases in a single season for the Texas Collegiate League. Jeffries scored the game winning run on a wild pitch following the stolen bases. Dominic Cox kept the Generals in the game when he hit a homerun in the bottom of the ninth inning to tie the game. Michael Morissette was two for four on the night with 2 runs batted in, and a walk. Dominic Cox was three for six with 3 runs scored and 1 RBI.
The Generals will be back in action for playoff baseball Wednesday night at RIverside Stadium. The Generals will face the Texarkana Twins for one game to decide who will advance to the championship series. Admission to the playoff game will be free thanks to Crossroads Title Company. Gates will open at 6:00 PM, and first pitch will be at 7:05 PM.