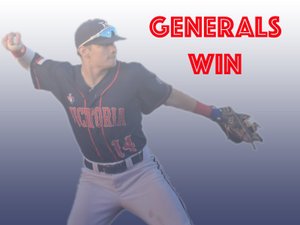 Generals Win to Split Series with Twins
Texarkana, TX- The Generals let one get away last night as the Twins scored four runs in their final at-bat to sneak a 5-3 victory from the Generals. The Generals would waste no time getting things going tonight scoring a pair of runs in the first inning running the score to 2-0 heading to the bottom of the first. The Twins would take advantage of a walk that would come around to score running the score to 2-1 heading to the second inning.
The Generals would tack on a run in the bottom of the second to run the score to 3-1 as the Generals would not be done scoring. The top of the third would be the inning that would blow the game open as the Generals would send 11 men to the plate and score six runs to run the score to 8-1.
Generals starting pitcher Kyle Rogers would pitch a solid five innings striking out four and allowing no hits before giving way to Jonathan Jimenez who would come in to pitch the sixth inning. Jimenez would get into a little trouble in the sixth but would work out of it not allowing a run. Jimenez would surrender three walks in the seventh inning and would allow a bases clearing double as the Twins would get back into the game taking the score to 8-4.
Chris Fearon would come in to get the final out of the seventh keeping the score at 8-4. Fearon would stay in the game to finish up a scoreless eighth as the Generals would head to the ninth with an 8-4 lead. The Generals would tack on an insurance run to take a 9-4 lead heading to the bottom of the ninth. Luke Taggart would come in and shut the Twins down as the Generals would win 9-4 and split the series with the Twin.
The Generals pull within a half a game of the Bombers for the best record on the season as the Bombers come to town for a two game series starting on Sunday. Come out and support the Generals as they push for the best record heading into the playoffs. Gates open at 6:00 pm with Happy Hour on the Compadres Party Deck with first pitch at 7:05.
The Generals will play a semi-final playoff game against the Texarkana Twins on Wednesday, August 8th at Riverside Stadium. Pack the stands as it is FREE TICKET PLAYOFF presented by Crossroads Title Company! Everyone will be admitted FREE thanks to Crossroads Title Company.