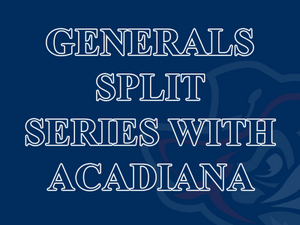 Victoria, TX – The Victoria Generals took on the Acadiana Cane Cutters for the final game of their two game series tonight. The Generals took the win with a score of 7-6 to split the series with the opponent. Tonight's game will be the last time that the two will play each other in the Texas Collegiate League regular season.
Pedro Garcia took the mound to start the night off for Victoria. Garcia threw for six innings allowing 4 runs. Garcia walked four batters, but struck out 9 Cane Cutters. The Generals defense did not allow a run until the top half of the sixth inning. Jack Woodland came in to pitch at the start of the seventh inning. Woodland struck out one batter, and allowed no hits on his two innings pitched. Garrett Alexander came in to close the game out for the Generals.
Luis Vargas was three for four on the night with four RBI's. Three of Vargas' runs batted in came on a three run home run in the bottom of the seventh inning. Thomas Jeffries went four for five on the night with 2 runs scored, and a few stolen bases. Giancarlo Servin was two for four with one RBI. Michael Williams was one for three from the plate, and scored two runs.
The Generals will be back in action tomorrow as they travel to Texarkana to take on the Twins for the final series of this regular season. The team will travel back home after the two game series to take on the Brazos Valley Bombers on August 5th.