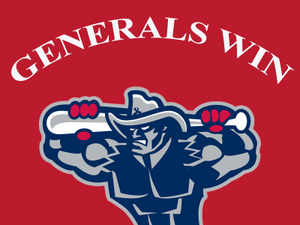 Victoria, TX – The Texas Marshals and Victoria Generals had yet another game that was too good to be decided in regulation. In a game that went back and forth the entire night, the Generals came out victorious when Chase Evans (Tyler JC) hustled from second base to score on a wild pitch in the bottom half of the inning. Both games of the series were decided in extra innings.
Matthew Swick (Blinn JC) got the start for the Generals. Swick allowed three runs on 6 hits. He struck out five Marshals while walking 3 on the night. Swick went for five innings before being relieved by Hagan Hartman (Angelina College). AJ Irvin (Blinn JC) and Chris Fearon (Texas) followed Hartman, and combined for eight strikeouts. Kyle Rogers (Northwest Oklahoma State) came in to face the final hitter of the night, and struck him out.
New addition to the Generals, Reese Johnson (Sam Houston State), went two for four on the night and scored one run. Luis Vargas (MidAmerican Nazarene) was two for five on the night with one RBI and two runs scored. Kyle Boudreaux (Angelina College) went two for four on the night.
Tomorrow night will be "Purple Out The Park" at Riverside Stadium. This promotion is to help raise money for the Alzheimer's Association. Players and coaches will sport purple commemorative jerseys that will be worn during the game against the Acadiana Cane Cutters.There will be a live auction following the game with jerseys going to the highest bidders, with 100% of the proceeds going to the Alzheimer's Association. Jerseys will also be signed by the players and pictures can be taken with the players. Gates open at 6:05 PM, and happy hour runs until first pitch.