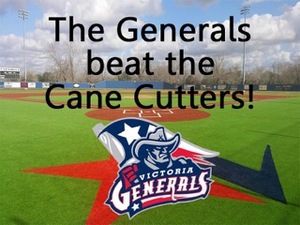 Generals Sweep Cane Cutters on the Road
Lafayette, LA – The Generals offense cooled off a bit but still had enough to sweep the Cane Cutters winning 3-2. Pedro Garcia pitched a strong five innings allowing just two earned runs while the bullpen came in and held the Cane Cutters scoreless through the final four innings.
The Generals got things going early in the second inning with a solo home run by Marshall Skinner, his first of the season for the Generals. The Generals would tack on another run in the top of the third inning with another solo home run from Dominic Cox, his third home run in as many games taking the score to 2-0 heading to the bottom of the third.
The Cane Cutters take advantage of four walks in the bottom of the third to even the score at 2-2 as the teams head to the top of the fourth. Both teams would get solid pitching in the middle innings as the score would remain ties as the Generals head to the top of the eighth.
In the eighth, the Generals would take advantage of a dropped third strike as Michael Morissette would beat the throw to first with one out in the inning. Several wild pitches would advance Morissette to third with one out as Kyle Boudreaux would hit a sacrifice fly to right field, scoring Morissette giving the Generals a 3-2 lead.
Generals would carry the lead into the bottom of the ninth as Kasey Kalich would come in for the save as the Generals would get the win 3-2 to sweep the series. The Generals would get solid relief from Jonathan Jimenez, one scoreless inning, Zach Smith, two scoreless innings, as well as Kalich with the final scoreless inning.
The Generals have an action-packed four game home stand beginning on Thursday night with Thirsty Thursday. $1 draft beer all game long on the Compadres Party Deck, followed by a Free Ticket Night on Friday night presented by Caterpillar. Saturday night will conclude our final jersey auction as the Generals will host Purple Out the Park for Alzheimer's presented by Sr. Helpers. Generals players and coaching staff will wear commemorative purple jerseys that will be auctioned off with 100% of the proceeds going to the Alzheimer's Association. Sunday will conclude the home stand with Scout night at the Park as all scouts will be admitted free in uniform. All games start at 7:05 pm with gates opening at 6:00 pm.