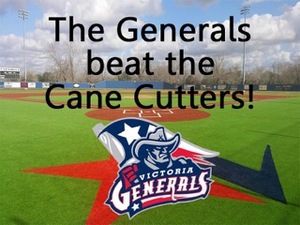 Generals Bats Stay Hot Taking Down the Cane Cutters
Lafayette, LA – The Generals offense continues to flourish scoring 34 runs over the past three games, putting up 10 runs tonight to defeat the Cane Cutters 10-6 on the road. Starting pitcher Alex Canul (A&M-Kingsville) had his second consecutive quality start, going seven innings allowing three earned runs with five strike outs and no walks on the evening.
The Generals got things going early in the second inning with an RBI single by Brady Disher (University of Arkansas) scoring Marshall Skinner (Northwestern State) to take a 1-0 lead. Generals would load the bases as Dominic Cox (Rice University) would hit his second grand slam in three games to put the Generals up 5-0 after two innings.
The Cane Cutters would chip away at the Generals lead scoring one in the third and two runs in the fourth to run the score to 5-3 after four innings. The score would remain that way until the top of the sixth as the Generals would get it going again with pitching control problems by the Cane Cutters. Skinner would single scoring two of the three runs in the inning as the Generals would run their lead to 8-3 heading to the top of the seventh.
Generals would tack on two more runs in the top of the seventh as Disher and Cox would single and Parker Osburn (Rice University) would drive both of them in with a single running the score to 10-3 heading to the bottom of the seventh. Cane Cutters would not go away scoring one in the seventh and a pair in the eight to take the score to 10-6 heading to the bottom of the ninth.
Generals would bring in closer Garrett Alexander (A&M-Kingsville) who would seal the deal as the Generals would win the game by a score of 10-6. Disher had his best game of the season going 3-4 with a walk and a pair of runs scored. Canul would get the win for the Generals as they look to close out the series with a pair of wins against the Cane Cutters tomorrow night.
The Generals have an action-packed four game home stand beginning on Thursday night with Thirsty Thursday. $1 draft beer all game long on the Compadres Party Deck, followed by a Free Ticket Night on Friday night presented by Caterpillar. Saturday night will conclude our final jersey auction as the Generals will host Purple Out the Park for Alzheimer's presented by Sr. Helpers. Generals players and coaching staff will wear commemorative purple jerseys that will be auctioned off with 100% of the proceeds going to the Alzheimer's Association. Sunday will conclude the home stand with Scout night at the Park as all scouts will be admitted free in uniform. All games start at 7:05 pm with gates opening at 6:00 pm.