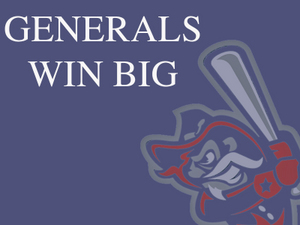 Victoria, TX – The Generals faced the Texarkana Twins for game one of a two game series. Tonight's promotion was Faith and Family Night. There was a concert held pregame by Clay Crockett and the Nation of Believers. The Generals hot bats helped them soar to a victory over their opponents, winning by a score of 15-2.
The Generals defense played well as the they only gave up three hits on the night. Starting pitcher Matthew Swick threw for multiple innings, and was relieved by Zach Smith. Kal Kilgo then came in to pitch, and was followed up by Pedro Garcia.
The Generals got off to a hot start by scoring eight runs in the first two innings. Thomas Jeffries was 3-4 on the night. New addition to the Generals, Kyle Boudreaux, als went 3 for 4 on the night with two walks. In the seventh inning, Rice University outfielder Dominic Cox added to the Generals lead by hitting his first grand slam of the season. Cox was 1 for 3 on the night, and was hit by two pitches.
The Generals will face the Twins again tomorrow night at 7:05 PM. There will be free admission to the game sponsored by Invista. The gates will open up at 6:05 PM as the Generals take on the Twins to close out their two game series.