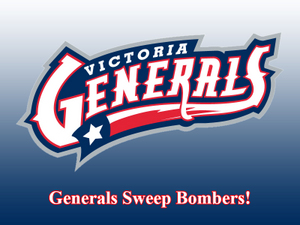 Victoria, TX – The Victoria Generals closed out their two game series with the Brazos Valley Bombers tonight. The promotion for tonight's game was "First Responders Night." All first responders and their families were admitted into the game for free. Victoria took the win 2-1 in a game in which both teams had multiple hits, but left multiple batters on base. The two teams will meet only once more in regular season play, and their two game series will finish out the regular season schedule for the Generals.
Matthew Swick got the start for the Generals, and threw for six innings. During his outing he gave up one run on two hits. Swick struck out two batters, and walked only one batter. AJ Irvin, Jake Woodland, and Zach Smith pitched the final innings for the team. Each pitcher gave up only one hit, and none of thee trio allowed a run.
Thomas Jeffries had an RBI for the Generals along with two stolen bases while hitting 1 for 3. Dominic Cox had the other RBI, and also came around to score on Jeffries' hit. Cox was 2 for 3 with a double that scored Parker Osburn.
The Generals will be back in action tomorrow night as they take on the Texarkana Twins at Riverside Stadium. The game will be the first of a two game series. The gates open at 6:00 pm, and happy hour will run until first pitch at 7:05 pm.