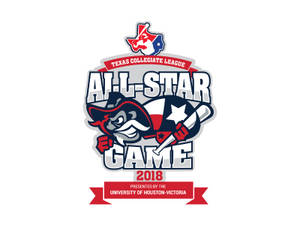 Victoria, TX – The league's top players faced off tonight in the annual Texas Collegiate League All-Star game. The Red team consisted of top players from the Victoria Generals, Texarkana Twins, and the Texas Marshals. Team Blue had players from the Brazos Valley Bombers, Acadiana Cane Cutters, and the Marshals.
The night's events started off with the home run derby. Contestants were Robin Adames, Zavier Moore, Michael Slaten, Cole Seacrest, Coltyn Kessler, and Christian Supulveda. The hitters had 10 outs to hit as many home runs as they could in the first round. Victoria Generals third baseman Michael Slaten, and Brazos Valley Bombers infielder Christian Supulveda advanced to the final round. Both players had five outs to hit as many out of the park as they could. Supulveda just edged out Michael Slaten with three home runs to Slaten's 2.
As the game started, bad weather conditions did too. Multiple stops were made during the first few innings to make an attempt at fixing the pitchers mound. Regardless of the weather conditions, the game went on as planned. The Blue team jumped out to an early 4-0 lead in the first two innings. The Red team seemed to settle in during the third inning, and added two runs to the board. Team Red eventually tied the game in the fifth inning. The score stayed locked at four until the bottom of the ninth when Luis Olivier of the VIctoria Generals hit a walk off to score Thomas Jeffries.
The Generals will be back in action on Friday against the Texarkana Twins for Warriors Weekend at Riverside Stadium. The gates will open at 6:00 pm and happy hour will run until first pitch! There will be a jersey auction to support Warriors Weekend after the game on Saturday night.