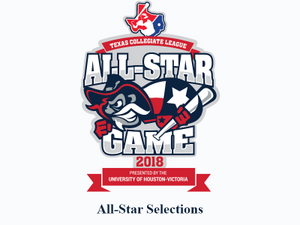 Ten Generals Selected to the 2018 All-Star Team
June 30, 2018 - The Victoria Generals have ten players that have been selected to participate in the 2018 Texas Collegiate League All-Star Game presented by University of Houston-Victoria. The event will be held in Victoria on Wednesday, July 4, 2018.
Position players include: Thomas Jeffries from Texas A&M-Corpus Christi at first base, Michael Slaten from Benedictine College in Kansas at third base, Michael Williams from Paris Junior College at outfield, Zach Howard from Embry Riddle University in Florida at outfield, Luis Vargas from MidAmerican Nazarene University in Kansas at outfield, and Nick Barnes from Georgia Gwinnett College in Georgia at Designated Hitter.
Pitchers include: Starting pitcher Gabe Sequeira from Sam Houston State University, starting pitcher Cole Wesneski from Navarro College, reliever Pedro Garcia from MidAmerican Nazarene University, and reliever Garrett Alexander from Texas A&M-Kingsville.
New for 2018, each team can select up to two prospects to also be included in the All-Star Game. The Generals two selections include: Catcher Luis Olivier from Embry Riddle University and pitcher Kasey Kalich from Blinn Junior College. Kasey Kalich was also a standout from Victoria West High School and graduated from there in 2017.
The All-Star Game will be held at Riverside Stadium in Victoria, TX, home of the Victoria Generals, on Independence Day. Gates open at 5:00pm with the Home Run Derby set for 6:00 pm, followed by the All-Star Game which will start at 7:10 pm. Tickets are available at the gate on the day of the event with General Admission seating at $6 and Reserved seating at $10.
The Home Run Derby will feature one representative from each team plus one additional player with the highest season home run total from the first half. The first round will have all six contestants, each receiving ten outs. Each home run will count as one point and each player will receive a bonus ball at the end of the first round, worth 2 points. The top two contestants with the highest point totals will advance to the championship round, which will have five outs per participant and one bonus ball at the end of the second round. The contestant with the highest points will be the Home Run Derby Champion. If there is a tie in either round, it will be settled by a sudden death tiebreaker.
The Home Run Derby and the All-Star game video footage will be streamed live on the Victoria Generals YouTube, https://www.youtube.com/channel/UCKkzrG00gNuI2tO9rl9Pshg of by clicking the YouTube box on the Generals website. Victoria Generals intern Brady Budke from Kansas State University will handle the play-by-play broadcast beginning at 5:55 pm.
The Generals will return back to action following the All-Star Game on Friday July 6th as the Texarkana Twins make their first trip of the season to Victoria. Both Friday and Saturday night games will be our 5th annual "Warriors Weekend at the Ballpark" The Generals players and coaching staff will be wearing special commemorative Warriors Weekend jerseys that will be auctioned off following the game with 100% of the jersey auction going to the Warriors Weekend Organization. Last season's Warriors Weekend auction brought in just over $16,000 for their organization. Please come out and support a great cause.