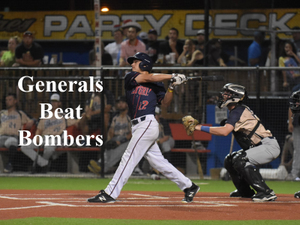 Victoria, TX –The Victoria Generals and Brazos Valley Bombers are closing out the first half of the summer season with a two game series. The Generals took game one in extra innings on Tuesday night with a score of 6-5. The win ties the Generals and the Bombers for first place of the Texas Collegiate League, with tomorrow night's game being the deciding factor for first place of the first half of the season.
Local right handed pitcher, Kasey Kalich, got the start for the Generals. Kalich struck out 12 batters through 9 innings pitched. During his outing he gave up five hits,while only walking two batters. The Bombers tied the game on Kalich in the top of the ninth, but he was able to hold them off and retire the other batters. Matthew Swick came in to pitch in the 10th inning for the Generals. Swick had one strike out and one walk.
Michael Williams batted in two runners in his only hit of the night. Jake Miller tallied one RBI for the Generals during the game, and a few runs came in to score on errors from the Bombers. Thomas Jeffries had two RBI's on the night – including one that won the game for Victoria in the 11th. Jeffries continues his hot streak, and is currently batting .363 on the season, and is hitting .579 in the past seven days. In the past week he has totaled 11 hits and 8 RBI's.
The Generals will be back in action for game two versus the Bombers tomorrow night at Riverside Stadium! The two teams will battle it out for first place at 7:05 pm.