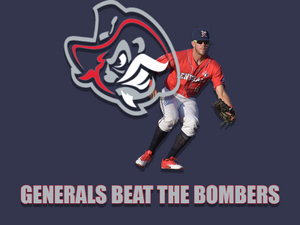 Victoria, TX –The Victoria Generals and Brazos Valley Bombers faced off in game 2 of their series tonight. The Generals beat the Bombers in extra innings, 7-5.
Gabriel Sequeira, a left handed pitcher from Sam Houston State University, got the start for Victoria. Sequeira gave up five hits, but struck out 4 Bombers also. He lasted six innings for head coach Michael Oros. Ty Hoecker, Tyler Crouch, and Matthew Swick also pitched late in the game. Zach Smith closed for the Generals, and got the win.
Victoria had 13 hits, and the Bombers had 9 on the night. The Generals scored two runs early in the first inning, and the Bombers scored a run in both the second and third innings. Victoria went scoreless for a few innings, but the Bombers tacked on two runs late in the game to give themselves a lead. The Generals then had an explosive three run inning in the bottom of the eighth to boost themselves to a 5-4 lead. The Bombers tied it up in the top of the ninth. In the bottom of the 11th inning, Dylan Hutcheson hit his first homerun of the season to boost the Generals to a 7-5 victory over the Bombers.
Hometown player, Trent Brown, reached base in all four of his plate appearances tonight. Brown recorded two doubles and was walked twice as well. O'Neal Lochridge hit once late in the game, and he knocked in a key run for the Generals. Lochridge later came around to score to put the Generals in the lead. The key at bats for the Generals came in the bottom of the 11th when Thomas Jeffries walked with two outs, and Hutcheson's home run the following at bat.
The win puts the Generals only one game back from the first place Bombers. The Generals now stand at 11-7, while the Bombers are 12-6. Coach Oros and the Victoria Generals will travel to Acadiana to take on the CaneCutters for a two game series tomorrow. The team will be back home on on Wednesday the 20th.