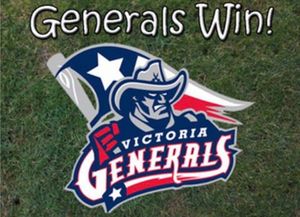 Generals Remain Hot Sweeping Bombers
June 13, 2018 – Victoria Generals wrap up a quick two-game road trip, taking a pair from the Bombers in Brazos Valley 2-1 tonight. This would be the Generals seventh win in eight games and moves the Generals within one game of the first place Bombers heading home for a two-game series with the Bombers.
Generals get things going early in the first as and score a pair of runs on wild pitching from the Bombers pitcher Chandler Jozwiak who would hit three Generals allowing the two runs. Dylan Hutcheson would get things started as he would be hit by a pitch. Nick Barnes would single putting two on for Luis Vargas who would double, scoring Hutcheson. Michael Slaten would also be hit by a pitch loading the bases for Kyle Guttveg who would also be hit by a pitch scoring Barnes, running the score to 2-0 Generals.
Pedro Garcia would start the game and keep the game scoreless until the a pair of singles in the third and a sacrifice fly would score a run to take the score to 2-1 heading into the fourth inning.
Pedro Garcia would go five innings and would give way to Jonathan Jimenez who would pitch two scoreless allowing no runs on one hit with three walks and two strikeouts. Zach Smith would come in and pitch the eighth inning allowing no runs on one hit.
Garrett Alexander would come in for his third save opportunity in four games and would slam the door on the Bombers allowing a pair of runners that would eventually be stranded. Alexander now has three saves in three opportunities. Pedro Garcia would get the win for the Generals.
Catch the Victoria Generals back in action on Thursday, June 14th as the Generals will host the defending TCL Champion Brazos Valley Bombers in game one of a two game series. It will be Victoria College Night at the Park as well as Thirsty Thursday with $1 draft been all game long on the Compadres Party Deck Ticket Night. Friday will be Free presented by Fastop/Ozarka with free admission to everyone.