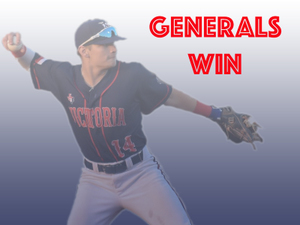 Victoria, TX –The Victoria Generals swept the Acadiana Cane Cutters in a sold-out game Tuesday night, defeating them 9-4 at Riverside Stadium in Victoria.
The victory improves the second place Generals to 5-5 on the season, while the Cane Cutters fall to 3-5 with the loss. The two teams will meet again in a two-game series in Acadiana on June 16th.
The Generals scoring got off to a hot start in the first inning, as Luis Olivier hit a three-run homerun off the first pitch he saw. Olivier recorded 4 RBI's, which was the most by a player in the game.
Along with Olivier, Thomas Jefferies and Michael Williams had solid outings for the Generals. The two were active around the bases, combining for four runs scored.
Generals starting pitcher Kasey Kalich went 5.0 innings, allowing one earned run on three hits and five walks while striking out five. Gabriel Sequeira came in for relief and pitched 2.0 innings, allowing one earned run on two hits and one walk while striking out two. Hagan Hartman closed the game out for the Generals, only allowing one hit with one strikeout.
The Generals will travel to Bryan, Texas to take on the Brazos Valley Bombers in a two-game series before coming back home to take on the Texas Marshals Friday and Saturday. Friday night's game will be free admission sponsored by Victoria Dodge.