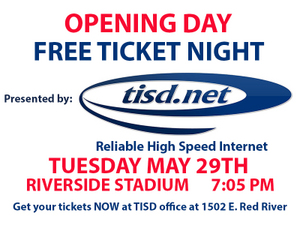 OPENING DAY SPECIAL ANNOUNCEMENT!!!!

FREE TICKET NIGHT presented by TISD Internet Service!!!!! To celebrate our 10th season, the Victoria Generals have teamed up with TISD to make our opening night a special one!!! Thursday May 29th will be free to everyone!!! Important information: Stop by TISD beginning today and get your free tickets (1502 E. Red River). THEY WILL GO FAST!!!!!

SPECIAL BONUS: Take a picture with you and your tickets at TISD and post it on this post for a chance to win a pair of SEASON TICKETS!!!!