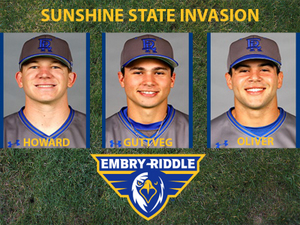 Sunshine State Trio Sign with the Generals
February 26, 2018 – With the 2018 Texas Collegiate League season just three months away, the Victoria Generals continue to build their roster as they embark on their 10th season in the Texas Collegiate League. This week, the Generals have announced the addition of three players from Embry-Riddle University of the Sunshine State Conference in Florida. Outfielders Zach Howard and Kyle Guttveg and Catcher Luis Oliver will take the field as the Generals start their season in late May.
Zach Howard, a junior from Land O'Lakes, FL, will bring his power to the middle of the Generals line-up. Howard is off to an outstanding start to the 2018 season with seven home runs for the Eagles after only 11 games played and is hitting .342 with an incredible .921 slugging percentage and 17 RBI's thus far. In 2017, Howard started 47 games, hit .316 with a .525 slugging percentage, 56 hits, seven home runs, 12 doubles, 39 RBI's and 33 runs scored.
Kyle Guttveg, a sophomore from Boca Raton, FL, will bring his speed and agility to the line-up this Summer for the Generals. Guttveg started all 48 games for the Eagles as a freshman in 2017, hitting .314, a team-best 61 hits, seven doubles, three triples, one home run, 20 RBI's with 32 runs scored. Guttveg was also impressive on the base path with 23 stolen bases while only being caught stealing twice on the season. Guttveg is currently hitting .289 with six stolen bases on six attempts thus far this Spring through 11 games.
Luis Oliver, a sophomore from Altamonte Springs, FL, will appear at catcher this season for the Generals. Oliver appeared in 44 games (42 starts) for the Eagles in 2017, hitting .291 with 46 hits, eight doubles, five home runs, 28 RBI's, 24 runs scored and a .977 fielding percentage as a catcher with 12 runners caught stealing. Oliver's five home runs as a freshman was a freshman school record. Through 11 games thus far this Spring, Oliver is currently the team leader in hitting for the eagles with a .350 batting average.
"We are excited to build a relationship with the coaching staff at Embry-Riddle this summer with some of their best players joining the team," commented Mike Yokum, Generals Vice President and General Manager. "Florida is a baseball hotbed for talent and Embry-Riddle has a long-standing reputation for winning in the Sunshine State Conference."
The Generals will begin their season on May 25th as they hit the road for a four-game road trip against the Texas Marshals and the Texarkana Twins. The Generals will return home for their home opener on Tuesday, May 29th at Riverside Stadium. The Victoria Generals will be the host to the 2018 All-Star Game that will happen at Riverside Stadium on July 4th. Season tickets for the Victoria Generals 2018 season are on sale now. Fans can buy tickets and merchandise at the team store located at 1307-H East Airline Road, or by calling 361-485-9522. The Schedule can be viewed at www.victoriagenerals.com
The Generals are currently looking for additional sponsors for the 2018 season. There are great sponsor packages still available if your business is looking for a way to advertise your support for the Generals. The Generals are also currently looking for additional Host families for the Victoria Generals players. If you are interested or need additional information, please call 361-485-9522.