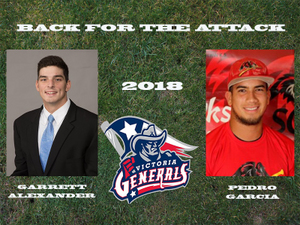 Generals Return Two Key Components from Last Season's Pitching Staff
February 1, 2018 – With the 2018 Texas Collegiate League season drawing near, the Victoria Generals continue to build their roster as they take the field for their tenth season. This week, the Generals have announced the addition of two returners from their 2017 roster. Pitchers Garrett Alexander and Pedro Garcia will all return and play a big roll in the pitching rotation.
Garrett Alexander, a junior from Texas A&M Kingsville, will be back in action for the Generals as they take the field beginning May 25th. Alexander had a great Summer season with the Generals in 2017 appearing in 20 games, 32 innings, allowing 23 hits, 15 earned runs, 21 walks while striking out 42 batters on the Summer. Alexander compiled a 6-2 record with six saves (both 6 wins and 6 saves are team leading) and a 4.21 Earned Run Average. Alexander transferred to Kingsville from Blinn Junior College where he played the past two seasons. Alexander was selected to the 2017 TCL All-Star team.
"We are excited to have Garrett back as he was one of our most versatile pitchers last Summer," commented Mike Yokum, Generals Vice President and General Manager. "Garrett seemed to always be ready to go on short rest and come in with the game on the line and get the job done."
Pedro Garcia, a junior from MidAmerican Nazarene University, will also return to the Generals after playing the first half of the season for the Generals. Garcia appeared in seven games (five starts) 29 innings, allowing 35 hits, 13 earned runs, 16 walks, while striking out 37 batters. Garcia compiled a 4-0 record with a 4.03 Earned Run Average. Garcia was also selected as a 2017 TCL All-Star. Garcia is a native of Maracaibo, Venezuela.
The Generals will begin their season on May 25th as they hit the road for a four-game road trip against the Texas Marshals and the Texarkana Twins. The Generals will return home for their home opener on Tuesday, May 29th at Riverside Stadium. The Victoria Generals will be the host to the 2018 All-Star Game that will happen at Riverside Stadium on July 4th.
Season tickets for the Victoria Generals 2018 season are on sale now. Fans can buy tickets and merchandise at the team store located at 1307-H East Airline Road, or by calling 361-485-9522. The Schedule can be viewed at www.victoriagenerals.com
The Generals are currently looking for additional sponsors for the 2018 season. There are great sponsor packages still available if your business is looking for a way to advertise your support for the Generals. The Generals are also currently looking for additional Host families for the Victoria Generals players. If you are interested or need additional information, please cal l361-485-9522.