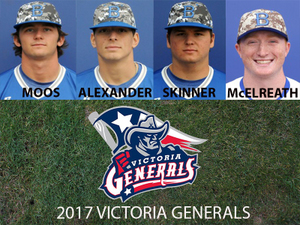 March 7, 2017 – With the 2017 Texas Collegiate League season less than three months away, the Victoria Generals continue to build their roster as they look to take the title in 2017. This week, the Generals have announced the addition of four players from Blinn Junior College. Pitchers Cody Moos and Garrett Alexander will look to bolster the pitching staff, while catcher Marshall Skinner and infielder Sam McElreath look to provide the defense behind them.
Cody Moos, a sophomore lefty, is in his second season with Blinn. In 2016, Moos, a transfer from Baylor University, appeared in 15 games with a pair of starts, was 1-1 with a 5.13 ERA with 29 strikeouts in 26 innings as a freshman. Moos has found his way into the starting rotation this season with Blinn and will look to battle for a starting spot in the Generals rotation.
Garrett Alexander, a red-shirt sophomore, is also in his second season at Blinn. The Klein, TX native will look to bring his towering presence to the mound for the Generals. Alexander, the 6'-6" hard-throwing righty appeared in five games as a freshman and will look to come out of the bullpen for the Generals. Alexander threw a perfect game as a junior at Klein Collins High school and helped lead the team to the playoffs .
Marshall Skinner, a freshman catcher from Cypress, TX, has started where he left off in high school this season at Blinn. Skinner is currently leading the team this Spring in hitting (.350) and is second on the team in home runs (4) to go along with five doubles and 14 RBI's in just 18 games. Skinner is also getting it done behind this dish throwing out 4 base-runners thus far on the season. At Cypress Ranch High School, Skinner was first team all-district in 2014, followed by first team all-district, third team all-state, all-state tournament team and state champion in 2015.
Sam McElreath, a sophomore infielder from Brenham, TX, will look to solidify his spot in the infield this summer. McElreath is off to a nice start this season appearing in 16 games, hitting .302 with 13 hits, four doubles, one home run, five RBI's and a walk. Last season, McElreath appeared in 48 games, scored 20 runs, 24 RBI's, three stolen bases and had three home runs.
The Generals will begin their season on May 26th as they travel to Texarkana to take on the Twins before returning to Victoria for their home opener on Sunday, May 28th at Riverside Stadium at 7:05 pm. Season tickets for the Victoria Generals 2017 season are on sale now. Watch for incredible season ticket specials coming soon! Fans can buy tickets and merchandise at the team store located at 1307-H East Airline Road, online at www.victoriagenerals.com, or by calling 361-485-9522. The Schedule can be viewed at www.victoriagenerals.com
The Generals are currently looking for additional sponsors for the 2017 season. There are great sponsor packages still available if your business is looking for a way to advertise your support for the Generals. The Generals are also currently looking for additional Host families for the Victoria Generals players. If you are interested or need additional information, please call 361-485-9522.