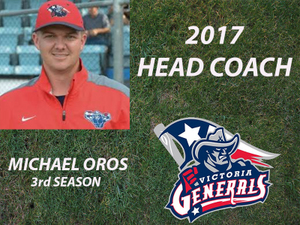 September 25, 2016 – The Victoria Generals announced today that Michael Oros will return for his third season as the head coach for the 2017 Generals. Oros, a right-handed pitcher for three seasons with the Generals (2009-2011), wrapped up his second season as head coach with a record of 28-28 and a two season record of 63-47.
"I am excited to have Michael back and to have him signed early this season as he can assist in building the 2017 team," commented Mike Yokum, Generals Vice President and General Manager. "Together Michael and I have built a strong network within the coaching ranks that will be an asset as we put the 2017 team together."
Oros joined the Generals in the Summer of 2009 out of San Jacinto Junior College where he saw limited action as a freshman. The Generals allowed Oros to develop that first summer with 30 innings of work, compiling a 3-0 record, 1.53 ERA allowing only 5 earned runs with 26 strikeouts. His second season with the Generals, Oros was moved to a starter making 8 starts, tossed 53.1 innings, 2.19 ERA allowing 15 runs, a team leading 49 strikeouts while compiling a 4-1 record. Oros transferred to Sam Houston State University his junior season where he tossed 40.2 innings in relief. His final season as a General, Oros made 12 starts, 69.1 innings pitched with 48 strikeouts while compiling a 3-3 record. Oros is the Generals franchise record holder in wins (10), starts (24), innings pitched (152.0) and strikeouts (123). Oros finished up his collegiate career at Sam Houston as their number one pitcher compiling an 8-1 record with a 2.52 ERA in 78.2 innings of work his senior season.
Oros would go on to play professional baseball for two seasons with the White Sands Pupfish of the Pecos League and the Florence Freedom of the Frontier League. Oros was the Freedom team leader in innings pitched with 87 innings as well as strikeouts with 80. Oros led the Frontier League in ERA with a 2.16 ERA while also being selected as a Frontier League All-Star.
"Although we got off to a slow start this past season, it was great to see the players really step up and finish up the season strong," commented Oros. "My goal as we build our new squad is to return a number of players and be selective as we utilize our contacts from our coaching network. The Generals have a history of taking care of players and that is a big asset as other collegiate coaches look to place their top talent in summer ball. "
The Victoria Generals will play 60 games in 2017 with 30 of the games being played here in Victoria at Riverside Stadium. The 2017 schedule will be released in late November. Follow the Generals at www.victoriagenerals.com for more information about the upcoming season.