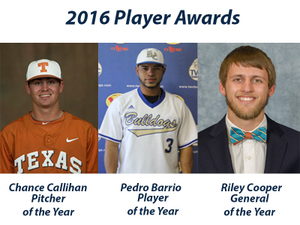 The Victoria Generals are pleased to announce the 2016 Season Award Winners. Chance Callihan as Pitcher of the Year, Pedro Barrios as Player of the Year and Riley Cooper as General of the Year. These players all has outstanding seasons on and off the field.
Chance Callihan, from the University of Texas, had an incredible season for the Generals and lead the Texas Collegiate League in wins. Callihan put up a 7-1 record and was also the strike out leader in the TCL as well with 60 strike outs. Callihan's durability was evident as he lead the Generals with 60 innings pitched on the season. Callihan's 1.80 ERA was good for fourth in the TCL. On August 7th, Callihan pitched a no-hitter against the Texas Marshals in route to a 4-0 victory. Callihan will be a red-shirt freshman an the University of Texas this Fall.
Pedro Barrios, from Tennessee Wesleyan University, had another incredible season got the Generals. Barrios returned for his third and final season with the team and picked up where he left off in 2015. Barrios finished up the season with a .340 batting average (ranked 2nd in the TCL) Barrios had 49 hits, eight doubles, a triple, 25 RBI's, 14 walks while only striking out four times in 158 plate appearances. Barrios will be a senior at Tennessee Wesleyan University.
Riley Cooper, from Sam Houston State University, was a true leader for the Generals. Cooper tossed 49.2 innings on the season, both as a starter and a reliever. Cooper's winning attitude and ability to help lead the younger players helped guide the Generals to a successful season. Cooper will be entering his senior season at Sam Houston State University.