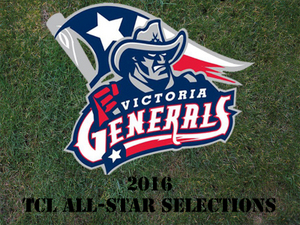 Nine Generals Selected to the 2016 All-Star Team
July 15, 2016 - The Victoria Generals have nine players that have been selected to participate in the 2016 Texas Collegiate League All-Star Game.
Position players include: Christian Caudle from the Texas A&M Kingsville at first base, Levi Zents from Weatherford College at third base, Pedro Barrios from Tennessee Wesleyan College at short stop, Bryce Brandl from St. Mary's University and Nick Anderson from Texas A&M Corpus Christi, both as outfielders, and Sam Wheatley from St. Mary's University as designated hitter.
Pitchers include: Michael Brawner from University of Arkansas who was voted in as the starting pitcher for the Blue team. Riley Cooper from Sam Houston State University and Braxton Smith from LSU-Eunice were both voted in as relievers.
The All-Star game will be held at Fabacher Field in Lafayette, home of the Acadiana Cane Cutters on July 19, 2016. The home run derby will start at 6:00 pm, followed by the All-Star Game which will start at 7:15 pm.
The home run derby and the All-Star game video footage will be streamed on the Acadiana Cane Cutters Ustream, http://www.ustream.tv/channel/8256231. Please feel free to share these links with your fans so they can follow the events. Audio of the All-Star game will be available on 106.3 Radio Lafayette. Visit their website http://1063radiolafayette.com/acadiana-cane-cutters-on-106three-radio-lafayette/ to access online streaming or to download their mobile app. Pregame radio coverage begins at 6:45 pm.
The Holiday Inn- Lafayette North is the official hotel of the Acadiana Cane Cutters and has generously extended their "Friends & Family" rate to visitors for the 2016 TCL All-Star Game. We encourage all player family, team personnel and scouts to book rooms early and through our website link on www.canecuttersbaseball.com to receive the pre-loaded discount room rate of $85 per night. You can also call Holiday Inn- Lafayette North at (337) 706-8199