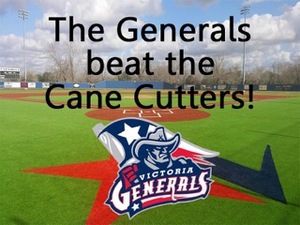 YOUNGSVILLE, La. - The Victoria Generals picked up their third win in a row after handing the Acadiana Cane Cutters a 3-2 defeat in Texas Collegiate League at Farcher Field on Wednesday.
The Generals (15-20) swept the two-game road series against the Cane Cutters (22-14).
The Generals' only runs came in the top of the second inning after they trailed 1-0.
Chace Sarchet hit an RBI single, then Cane Cutters second baseman Trenton Buchhorn made a throwing error allowing Pedro Barrios to score. Nick Anderson kept the inning going with an RBI single to push the score to 3-1.
Dane Gielser's sacrifice fly for the Cane Cutters in the seventh cut the Generals' lead to one.
Sarchet went 2-for-4 with an RBI, and Anderson went 1-for-4 with an RBI for the Generals.
Generals starting pitcher Kenny Saenz picked up the win on the mound, giving up seven hits and one run in six innings of work, while striking out five.
The Generals will travel to The Woodlands on Thursday to begin a two-game series against the Strykers.
Generals 3, Cane Cutters 1
Generals 030 000 000 - 3 7 1
Cane Cutters 010 000 - 2 9 1
Courtesy of: Victoria Advocate